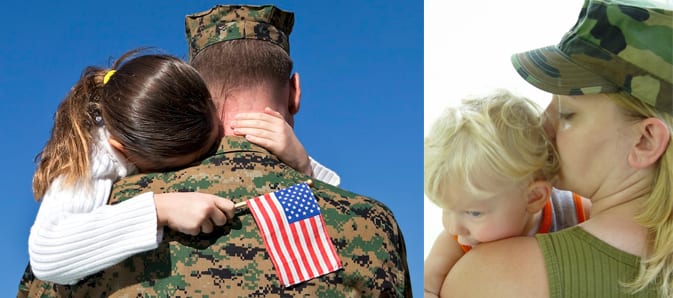 Moving is a part of military life. We dedicate ourselves to making military moves smooth and efficient. Starting with making an appointment for your pre-move survey and continuing right on through to delivering the final item to your new home, Hampton Roads Moving and Storage is there every step of the way.
The pre-move survey is a very important part of the relocation process. Our representative will meet with you at your residence to get a visual of all of your belongings to create an estimated weight. It is important that you explain your relocation plans with our representative. Make sure that we have all of your contact information, including email address, good contact numbers, and destination address. If you do not have a delivery address, make sure that you fully understand how to get your items delivered to you at your new residence. This information is listed in the Delivery from Storage Section below. If you need housing, we have provided below a few links to help you with your search.
www.militarybyowner.com (houses for sale or rent near military bases)
www.Realtor.com (houses for sale)
www.citysites.org (city information)
www.greatschools.net (local school information)
---
Our highly trained and experienced packing crew will arrive at your residence to pack your household items. After they have introduced themselves, you should give them a tour to inform them what is and what isn't going to be packed and moved. It's a good idea to put items that we will not be moving in a designated area in your home, for instance a closet or guest bathroom. As your items are packed, the boxes will be labeled with your name, information, and the contents inside. If you own a firearm, the lead packer must be notified, because we must take extra precautions in packing them. When the packers finish, you are required to sign paperwork that includes an inventory of all items that were packed. Certain items cannot be packed or transported; these are hazardous materials, including explosives, flammable and corrosive materials, and poisons.
---
Our relocation specialists are also highly trained and experienced. Your driver and helper or helpers will introduce themselves and participate in a tour. After the tour, they will put protection in place to ensure that your home is protected. Then the driver or a helper will begin to inventory the items that have not been packed into boxes while the rest of the crew begins to load the truck. Your belongings will be wrapped in moving blankets to help prevent any damage to them. All hardware for beds, mirrors, tables, and other items that have to be disassembled will be put into a parts box. When the job is done and everything is out of your residence and on the truck, you and the relocation specialists will take another tour confirm that all items have been taken and nothing is left behind. You will review and sign some more paperwork, including the inventory of your furniture. By this time, we will have discussed a delivery timeframe with you; however, it is still important to speak with the driver about delivery and make
---
When your driver arrives, you should give the crew a tour of your new residence to show them where all of the furniture and boxes are to be placed. They will prepare and protect your home, and then they will bring your belongings inside. As the driver and helpers bring your belongings in, they will call the inventory numbers, and you or a representative will check them off. This process is very important because it ensures that all your belongings are delivered and accounted for. All items that Hampton Roads Moving and Storage disassembled are put back together, and any unpacking that you requested is completed. At the end, when all of your items have been accounted for, the inventories are signed. If any loss or damage has occured during the relocation, you are able to document its extent on the DD 1840 form (pink form). You have 70 days to fill this form out and submit it to the personal property office. Another important document that is to be reviewed is the Customer Satisfaction Survey. This paper survey is not to be filled out; it is just to remind you to take the time to submit the survey online at: https://icss.eta.sddc.army.mil/Survey/.
---
We go out of our way to provide the customer-focused, user-friendly service that the Military Surface Deployment and Distribution Command (SDDC) demands for Service Members, Department of Defense civilians, and their families.
We meet or exceed the requirements set by the Department of Defense for approved moving facilities.
Fire suppression: All our storage facilities are equipped with sprinkler systems, and they are inspected quarterly.
Housekeeping: DOD inspectors make unannounced visits to our warehouses to inspect proper procedures, including wrapping, stacking, and storing. They also inspect paperwork and safety items. In addition, these inspector look for flammables, cleanliness, and other factors that would make a facility acceptable or unacceptable under DOD standards.
Other: The DOD will not approve a warehouse in a 500-year flood zone, in an all-volunteer fire department area, or in a crash zone.
---
If your household items went into government storage, you will need to contact your new personal property office to set up for delivery. Their number should be given to you before the move; however, if you need help feel free to contact us. After your delivery is set up our delivery day section, above, will let you know what to expect.
---